June 2022 – Announcing the new web site
Dear customers – hope you are all keeping well.
In this update we are introducing the new public facing web site. The old web site has served us well for several years but is now due a bit of a refresh so we have commissioned a fresher more modern web site, which will go live very soon.
Here is a preview of the new landing page: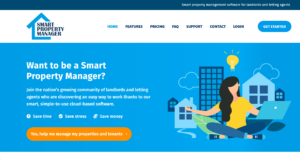 [Hint: click on the image to enlarge it]
The new web site is designed to look good on desktop, tablet and mobile profiles and also incorporates a searchable support page where we will start to add more articles on how to get the best out of Smart Property Manager.
The main application pages which you see after logging in remain largely unchanged at this stage, but we are working on refreshing those also over the coming weeks and months.
---
We'll continue to keep you updated on new features we add to SmartPropertyManager. And as always, please don't hesitate to contact us if you have questions or if you have any suggestions on how we can make SmartPropertyManager work better for you.
Best regards
SPM Team