October 2021 – Ability to search for attachments, improvements to detail reports
Dear customers – hope you are all keeping well!
We wanted to share some of the latest updates we've made to SmartPropertyManager, including searching for attachments, improvements to detail reports, and performance improvements.
---
Attachment Searching
One of the most used facilities in SmartPropertyManager is the ability to store attachments against records, for example, uploading invoices to expenditure records or tenancy contracts to tenancy records.
We have now added the ability to search for attachments – see the following screenshot to see the new search box on the attachment dialog: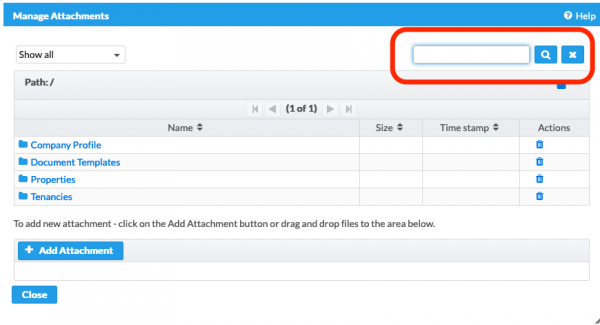 For those customers using the built-in attachment store, there are additional capabilities:
Searching attachments will find any attachment file or folder in your account that has a name matching the search terms.
You can type multiple words into the search box in which case it will match any attachment that contains any of the words.
You can use the + symbol to find attachments that contain all the words, for example war + peace will match only those attachments that  contain the word war and the word peace.
You can use double quotes to find attachments that match an exact phrase, for example "war and peace" will match only those attachments that contain the exact phrase war and peace in its name.
The search results will be ranked with the closest matching ones first.
---
Improvements to the Transaction and Tenancy Detail reports
The detail reports are useful for seeing the full information stored in the system and also for extracting data – for example, into Excel for offline analysis. We have recently added some extra information to these reports:
Tenancy Detail Report
Added the tenancy Notes and the Open/Closed status as extra columns on the report.
Transaction Detail Report
Added transaction financial period information. This also has the added benefit of making it easier to find those transactions which fall outside the dates of a financial period.
---
Performance fixes
With various additions that have been recently made and an increase in general traffic we had seen some pages slow down. So over the last month we have made a bunch of performance improvements to speed up pages. We aren't done yet, so expect some more improvements over coming weeks.
---
We'll continue to keep you updated on new features we add to SmartPropertyManager. And as always, please don't hesitate to contact us if you have questions or if you have any suggestions on how we can make SmartPropertyManager work better for you.
Best regards
SPM Team