June 2017 – Customisable home page and single downloadable help manual
Hello to all our customers! A brief update on changes we have recently made to SmartPropertyManager.com:
Customisable home page
Following on from recent improvements to the general look and feel of the web site, we have now added the ability to customise the appearance of the home page in a number of ways.
The following screenshot shows the various ways in which the home page can be customised. Read on for more details.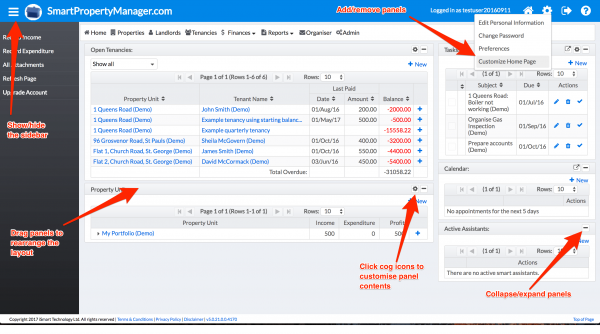 Walking through each of the allowable customisations:
Show or hide the side bar by clicking on the horizontal bars icon in the top-left corner of the page.
Collapse or expand individual panels by clicking on the minus/plus icon in the top-right of each panel.
Show or hide panels by accessing the Customise Home Page dialog from the page settings sub-menu in the top-right hand corner of the page.
Re-arrange the location of panels by dragging and dropping them into the desired location on the home page.
Customise the content of individual panels by clicking on the cog icon in the top-right hand corner of the panel.
The web site will conveniently remember your customisations and reapply them the next time you access the home page.
Single downloadable help manual
The help manual can now be viewed as a full single page. To access it, go to any help page, go to the contents and then scroll to the bottom – as shown in the following screenshot: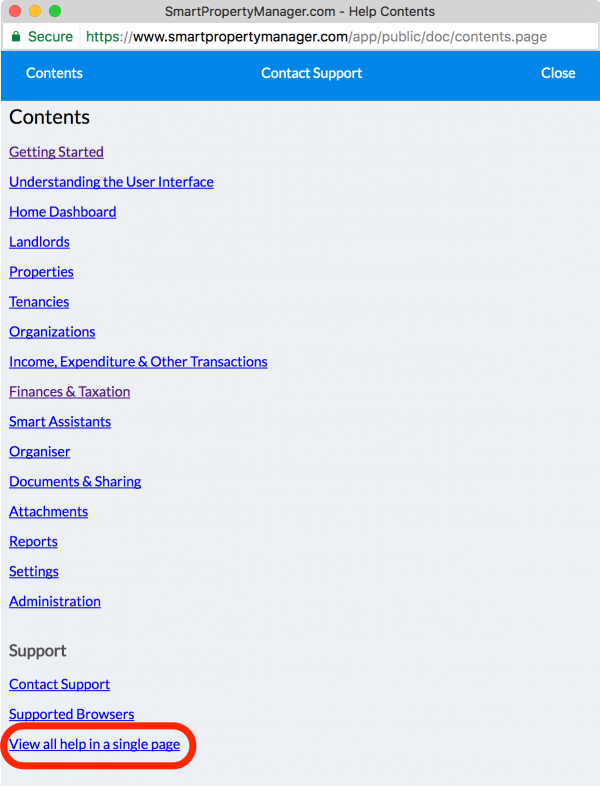 Useful hint: Many modern web browsers support printing to PDF so you can go to the single page view and then print to PDF to get an easily downloadable PDF file containing all SmartPropertyManager's help content.
Improved support for new internet domains
SmartPropertyManager.com now recognises and allows use of email addresses in new top-level internet domains, e.g. @business, @realtor, @property.
Additional Improvements
We've made some changes under the covers to minimise the amount of content that needs to be generated which means that most pages now display more quickly than before.
A few tweaks have been made to make printable page views print more visually appealing and simpler.