February 2019 -Additional Improvements to Attachments
Dear customers – this update describes some recent improvements we have made to the web site as part of the continuing effort to make it easier for you to manage your property portfolios.
Hope you find the information useful. As usual you can contact us if you have any questions.
Additional Improvements to Attachments
One of the most popular features of SmartPropertyManager.com is the ability to upload and save arbitrary files with your records as attachments, thereby allowing you to keep all your relevant information secure and always available online.
A number of improvements have been made in this area to make it more flexible and easier to use:
We have increased the maximum size for uploaded files – to 20Mb for regular customers, further still for Enterprise Edition customers.
The user interface for managing attachments has been tweaked to make it easier to see the size of attachments and the date and time they were uploaded.
When viewing a list of attachments, you can now click on a column headings to sort the list by that column.
See the following screenshot: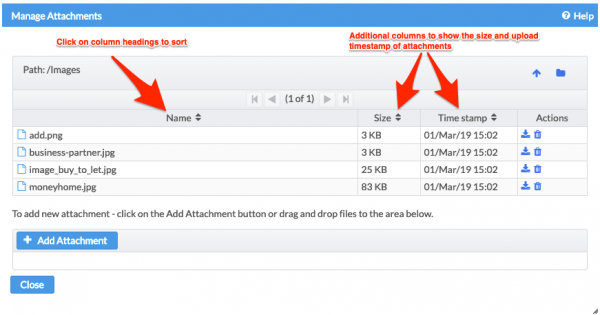 New Detail Reports
We have added two new detail reports:
Property Detail Report – will show the full details of all your properties.
Tenancy Detail Report – will show the full details of your tenancies.
Both reports support export to Excel and are accessible from the Reports menu.
Property Account Page Improvements
The Property Accounts page now has a new option to control which types of charge are reported in the income summary section. In particular, this makes it much easier to separate the reporting of deposit income versus rental income.
See the following screenshot: