December 2013 – Tenancy Contract Renewal Dates & Tenancy Management Reports
Tenancy Contract Renewal Dates
The tenancy record has been extended to allow recording of the contract renewal date as shown in the following screenshot: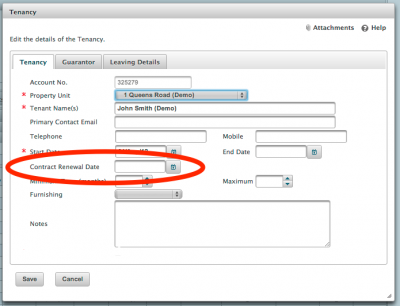 Tenancy Management Reports
Two new reports have been added to help find tenancies with significant upcoming dates:
Report showing upcoming tenancy end dates
Report showing upcoming tenancy renewal dates
Both reports allow filtering of tenancy by date criteria and property unit or portfolio. And both support export to excel. The new reports can be accessed from the Reports menu as shown in the following screenshot: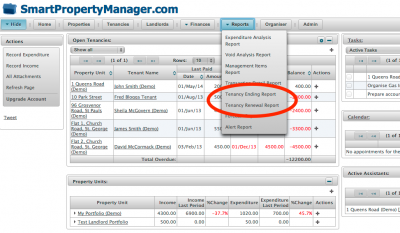 The following screenshot shows a sample view of the Tenancy Ending report:

Improvements to Document Templates
It's always been possible to create your own custom document templates. We have recently made a couple of changes to make it easier:
We have improved the error handling and reporting for unknown substitution variables or for syntactical errors when specifying substitution variables. This should make it a lot easier to rectify mistakes when setting up custom documents.
We have made a couple of tweaks to improve the performance and reliability of custom document generation.